It doesn't happen often, but sometimes a conversation on Rover may make you uncomfortable. Here are the signals you should flag a conversation as inappropriate:
Someone suggests you pay in-person rather than through the site. Safety and security are paramount, and booking and paying through Rover is the only way to ensure your account is in line with our Terms of Service and that your booking is covered by the Rover Guarantee and dedicated support.
Someone asks you to provide personal information. You should never feel pressured to share your full name, email or mailing address, phone number, or any other personal information before a stay is booked.
Someone uses threatening language. Always let us know if someone's messages make you uncomfortable.
Someone tries to recruit you for a private pet-sitting service. Only services booked through Rover qualify for the Rover Guarantee, dedicated support, veterinary consultation access, sitter promotion tools, and more resources to help sitters build their pet care services.
How to report a conversation
If a conversation makes you uncomfortable, let us know by reporting it.
Open the conversation and select Report this conversation under the Send button.

2. Select a reason for reporting the conversation from the dropdown menu.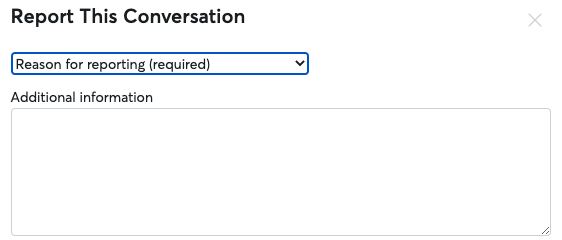 Remember: Always have a Meet & Greet before you confirm a booking to ensure everyone—both humans and canines—get along well. Only accept bookings that you feel good about.

Have questions? We're here for you! Contact Rover Support at +33 805 11 87 47. Or, submit a help request by navigating to the bottom of any page in the Help Center and selecting Contact Support.