At Rover, safety is our top priority—not just for dogs, but for humans too. We're continually improving our website to protect pet owners and sitters, and we've outlined some of the different ways you can be proactive about web security as well.
Recognizing suspicious behaviour
While it rarely happens, people will attempt to take advantage of others online to gain information or money without any intention of using Rover's services. Keep an eye out for the following types of suspicious activities:
Phishing

Rover Support will never ask you for your username or password. However, phishing messages usually include requests for personal information, such as:
Your full name

Your email address

Your phone number

Your password

Your financial information
Phishing messages may also contain a link that looks like it leads to a trusted website, but it may download malicious software to your computer. If you believe you've received a message like this on Rover, don't respond or click on any links. Instead, alert Rover right away.
Overpayment
In this situation, you may be asked to accept payment outside the Rover website. This person may send you a check for more than they owe you, and then ask you to reimburse them. Typically, the check they give you will bounce, but they'll keep the money you sent them. Never accept payment via cash or check—always accept payment through Rover. 
Advance fee
In this situation, you may be asked to accept payment outside the Rover website through various payment services. They'll usually offer a reward which never materializes.
Other unusual requests
Keep an eye out for other unusual requests or behaviours, like the following:
Messages that ask you to provide a service unrelated to Rover, like being a personal assistant


Messages from an owner asking you to contact their friend outside of Rover because they'd like to use your services, such as the owner's "boss"


Messages or phone calls that use odd or complicated language and/or include a sympathetic story that may seem over the top


Personal info that suddenly changes and is different from what they've told you before, like a family member's name or email address
Impatient behaviour, like an owner who wants you to respond or do something that seems questionable right away
Here's an example of a suspicious message you'd want to flag: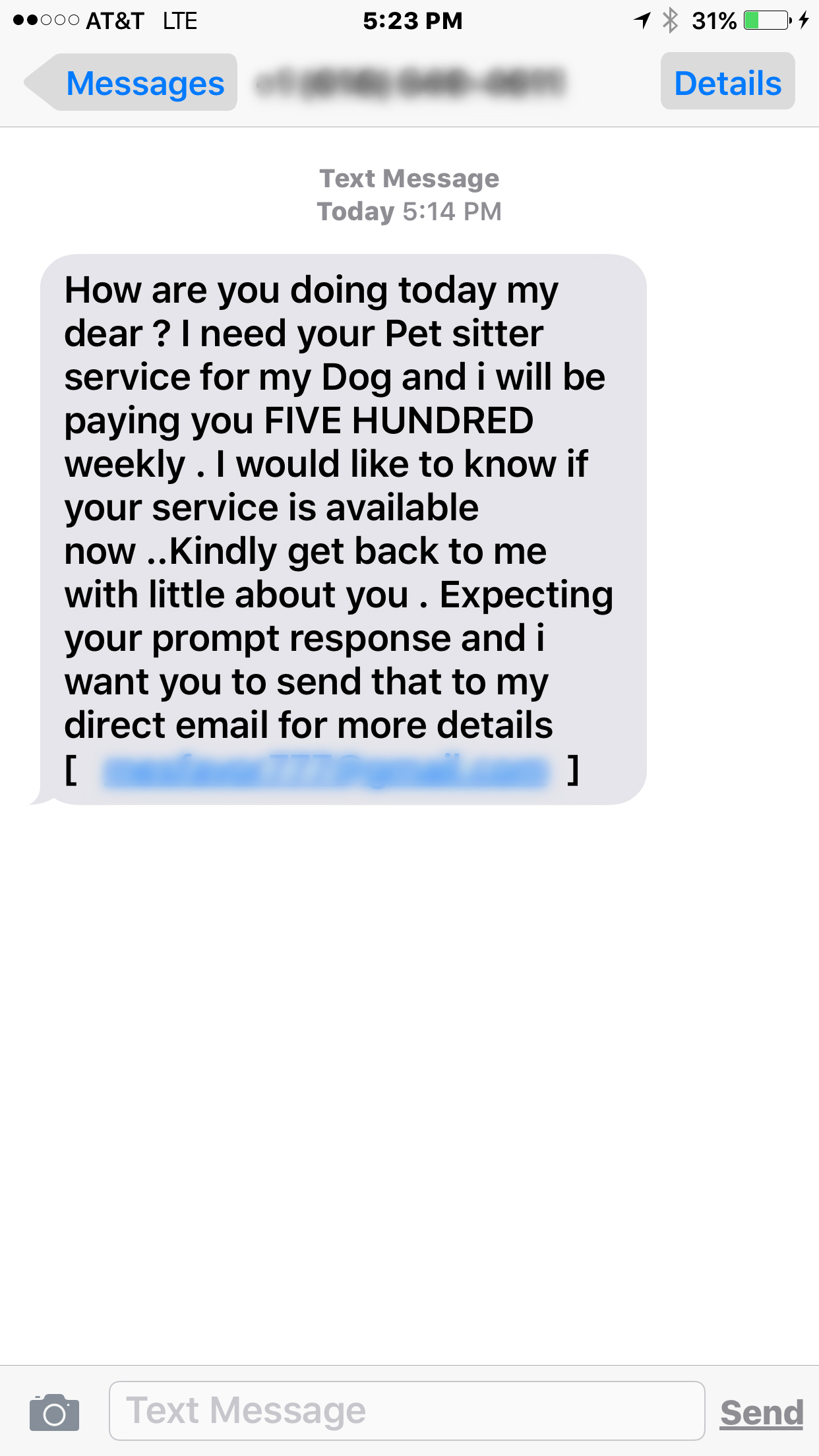 When to contact Rover
If you experience any of the above situations, don't hesitate to flag the conversation in your Rover account and contact us as soon as possible. The sooner we know, the sooner we can take action.

Include as much information as possible when contacting Rover Support, so we can best investigate the situation. This could include, but is not limited to:
The name(s) of the person contacting you used

Any email addresses or phone numbers they used or mentioned

What they asked you to do or what they offered you

Screenshots of text or email conversations
Reporting a security issue
If you notice any security or privacy issues on your Rover account, please email us at security@rover.com.

How to proactively protect your account
1. Recognize Rover-official emails.
Official emails from Rover will end in @e.rover.com or @rover.com. If you see any other address in the "From" line of an email you've received, it's likely not from Rover. Be careful when responding and never disclose personal information via email.
2. Create a strong password.
Your password should be at least 8–10 characters and include a unique combination of letters, numbers, and symbols. Be sure to change your password regularly and don't use the same password for multiple accounts you keep online.
3. Make sure the web page is secure before logging in to your Rover account.
A web page is secure if the URL (web address) begins with "https://". Depending on what web browser you're using, you might see a padlock icon too:

4. Use Rover's secure payment platform. 
Always pay and communicate on Rover.com or through the Rover app. That way, you'll have the benefit of Rover's dedicated support team and your profile will remain in line with our Terms of Service. We'll never ask you to enter payment information anywhere but on the Rover site or in the Rover app while booking a service.
5. Look out for suspicious emails or messages on Rover.
Don't follow links or download attachments from unverified sources or people you don't know. This is a good rule of thumb for your personal email account and your Rover inbox.
6. Make sure your web browser is secure.
Always keep your web browser updated to the latest version.
7. Report suspicious conversations. 
If you come across a suspicious-looking Rover profile or have a strange conversation in your inbox, let us know right away.