Finding the perfect pet sitter or dog walker near you is easy with Rover:
Web:
1. Go to Rover.com and select the Search Sitters button.



2. Fill in the type of service, address and dates you need a sitter.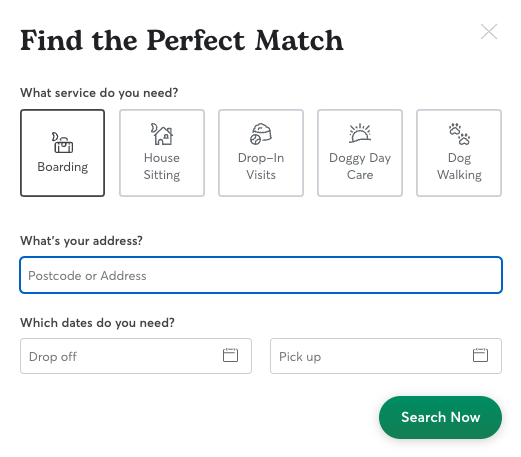 3. Browse sitters and dog walkers in your area. You can narrow your search by selecting a service you're interested in, the dates you're looking to book, your price range, and more.

4. To get even more specific about what you're looking for, apply a filter.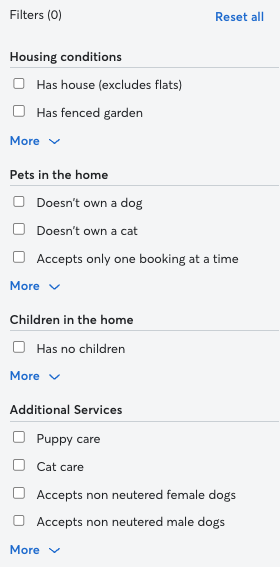 5. Scroll through the list and select a sitter profile that seems like a good match to learn more about them.
6. Read reviews, browse photos, and when you've found someone great for your pet, select the Contact button on their profile to start a conversation.

Rover App (same for iOS and Android):
Open the Rover app.

Tap on Services at the bottom.




Tap what service you'd like to book. 


Enter the details about your booking, then select Search now.




To adjust your filters, select the filter icon in the top right corner of the screen.



Choose your location, the stay dates, which pets you'd like to book, your price range, home type, and more!






Select Apply in the upper right corner of the screen.


A list of nearby sitters will appear for you to browse. To see a map view instead, tap the map icon in the top right corner of the screen.



We recommend contacting two to three sitters or dog walkers when beginning your search. That way you'll have lots of options when you're ready to book your first service.

Have questions? We're here for you! Contact Rover Support at +33 805 11 87 47. Or, submit a help request by navigating to the bottom of any page in the Help Center and selecting Contact Support.